TOPK 3 in 1 Retractable Magnetic Fast Charging Cable (iPhone , Micro ,USB Type C )
customers are viewing this product
2020 NEWEST MACARON DESIGN - 3 in 1 retractable magnetic charging cable, small size, lightweight, easy to carry, tangle free, excellent for travel.

3-IN-1 CABLE - The best 3 in 1 magnetic charging cable in the market, strong magnetic, 120% fast charging. Has 3 charging ports compatible with Samsung S20/S7/S8/S9/S10/Note 8/Note/Note 9/j7, LG, Moto, HTC, Pixel, i-PHONE11/11Pro/XS/XS
MAX/X/8/8Plus/7/6/6S/6S PLUS/5/5S/SE, i-PAD, google and most Android smartphones. making it an ideal choice for anyone on the go. Great gift for students.

HIGH QUALITY & CONVENIENT DESIGN - High quality alloy material, the soft LED light can quickly point to the mobile phone charging interface in the dark. Convenient storage inside the pod for the 3 magnetic tips. 5 lengths to choose from for the chord reel.

Strong Magnetic & Interface Dust-Proof - magnetic cable has super strong magnet,which will avoid disconnecting,inserting the magnetic tip at the charging interface of the phone can prevent dust from sticking, especially for long time usb.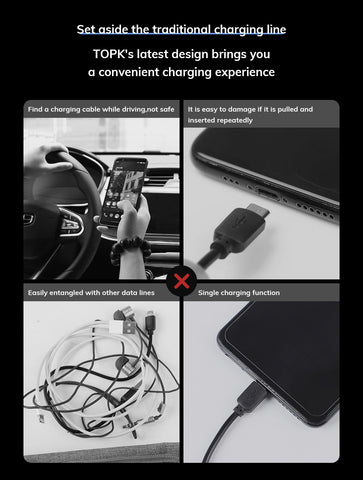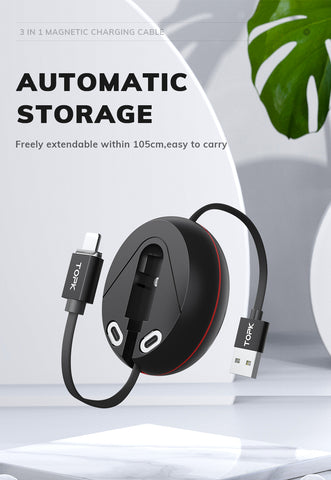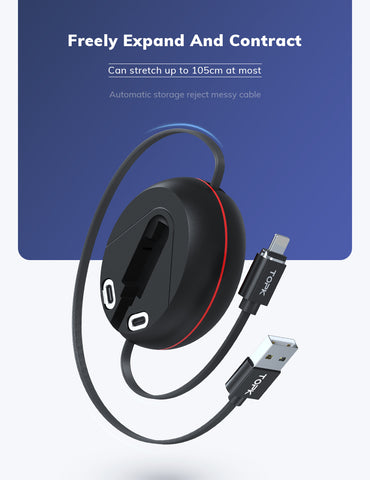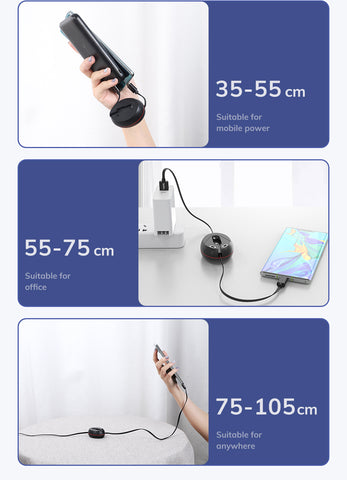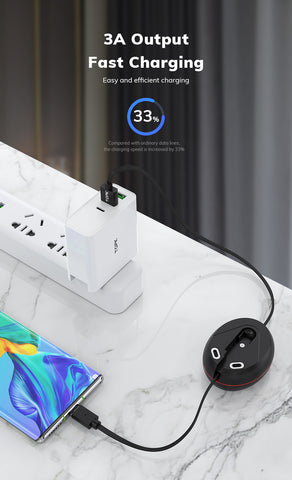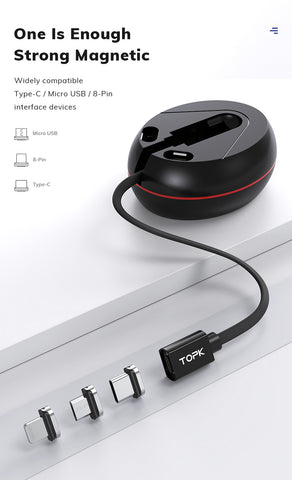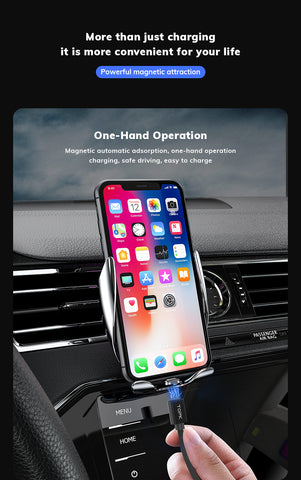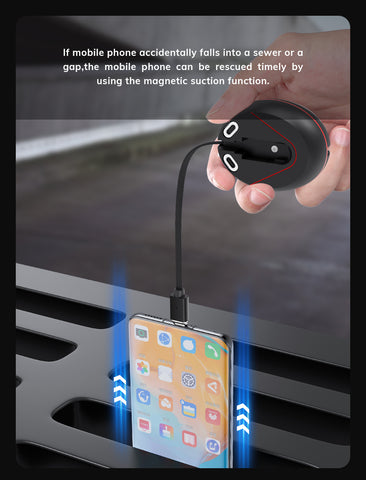 When you receive your order, please inspect all packages for items such as remotes, manuals and cables, or any applicable accessories for the product(s) ordered. If the merchandise is not being installed right away, please power up or play the merchandise. Please be sure to save the box, and the shipping carton and its packing material, in the unlikely event that you'll need it for a return shipment.
If you require any assistance, please send an e-mail and provide the order confirmation number with a brief explanation of your issue.
Return and Exchange Policies
A return authorization is required for any exchange or refund. Any product shipped to us without a return authorization will be returned to the customer at his or her expense.
We will issue a refund or exchange as long as the request is made within 30 days of the shipping date, the merchandise is returned in the same condition as it was when shipped, and is received in the original packing material and with all of its accessories such as: remote control, cables, antennas, connectors, brackets and owner's manuals. The merchandise returned will be inspected when it arrives at the warehouse and you will be charged for anything missing.
Note: Errors or oversights when placing orders (wrong model, size, feature, color, unit of measure [each, single, pair, system), or mismatched left or right speakers are the sole responsibility of the customer who accepts all associated expenses.
To Return or Exchange a Product
To initiate a return, please send mail to our Customer Service Center at support@topk.com, from 9:00 a.m. to 11:00 p.m. (ET) Monday through Friday and 9:00 a.m. to 5:00 p.m. (ET)Saturday and Sunday. Our customer service will handle it for you in a timely manner
Return Authorizations are only valid for 30 days from the date issued. Replacement merchandise will not be reserved for more than 30 days past the issuance of the RA. Merchandise received past the return period may be refused and returned. Notification will be sent to the e-mail and/or billing address you provided should your return not be accepted.
Note: We cannot be responsible for e-mail or mailing addresses that are incorrect, changed, filtered, unread or no longer valid.